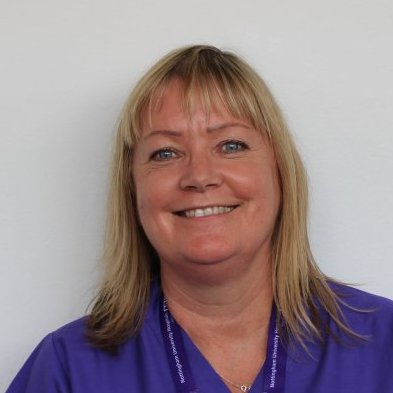 Sylvia Jeffery
Interprofessional Educator
Sylvia trained at Derby Royal Infirmary (DRI). One of the last SRN's to be trained back in the day . Her first job was as a staff nurse in Chesterfield Royal Hospital which she really enjoyed; she had many different experiences working at Chesterfield during the miners strike in the mid eighties with miners and police being brought into department at the same time. She later transferred to Nottingham City hospital where she worked in an acute medical admissions ward, followed by Haematology and Bone Marrow transplant unit for a few years, working part time whilst spending time with her family. After returning to work full time she was promoted to band 6 Deputy Sister in Medical admissions. Eventually she became a Clinical Nurse educator at QMC in the ward B3 and in Acute medicine.  
She has now retired and returned working 2 days a week, recently joining the DREEAM team in July 2021, with 2 other Clinical Nurse Educators within Acute medicine. Her role includes many aspects of education, including staff inductions, mandatory training, medical devices training etc. She enjoys the daily challenges, orientating all grades of staff, and remains passionate about her role as educator and hopefully can make a change to staff and ultimately improve the patient's experience. She particularly enjoys the pastoral and nurturing part of the job, with the continued support to all members of the team and positive encouragement to empower them to be the best that they can be and develop in their careers in nursing.
Outside of work, she loves socialising with friends, and enjoys tea, lager and chocolate.