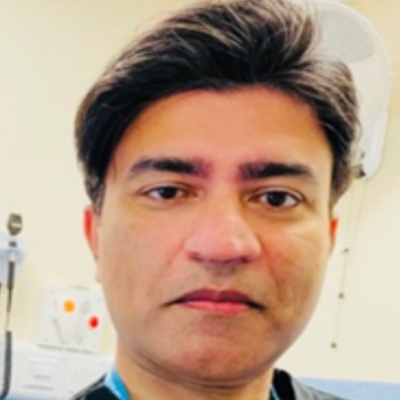 Faisal Faruqi
Consultant in Emergency Medicine
Faisal trained in Emergency Medicine in Nottingham and completed his fellowship training in Emergency Medicine in 2009 from The Royal College of Emergency Medicine.
He was appointed as a Consultant in Emergency Medicine at The Queens Medical Centre Hospital in 2010. He has been the Specialty Tutor for Health Education England Emergency Medicine (HEE-EM) since 2014, and in 2020 took on the role of the DREEAM Postgraduate Medical Education Lead at the QMC emergency department. He is also clinical lead for Advanced Clinical Practitioners (ACPs), Urgent Care Practitioners (UCPs) and Nottingham Redthread, national trauma informed youth work organisation.
In 2017, he was awarded the East Midlands Excellence in Education Award for innovative use of technology in Education by Health Education England; and in July 2020 and 2021, he won the Postgraduate Medical Education award (PMED award).This year, he has won celebrating excellence in Medical Education award for significant contribution to Medical education.
He is also a faculty member of East Midlands Major Trauma Network (EMMTN) and Hospital Interrupting Violence exchange (HIVE) national conference design team.
As a DREEEAM-PMET Lead, I am determined that NEPTUNE conference will provide a platform for inter-professional staff to share experiences, knowledge and collaborate to improve Paediatric trauma education in the UK.