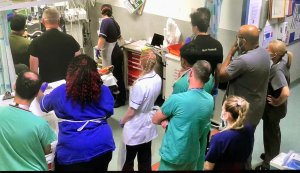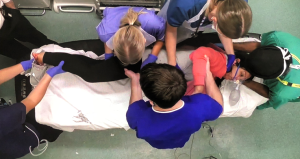 Are you looking to enhance your skills in high-pressure decision-making scenarios? Do you want to work effectively in a team to provide optimal patient care in emergency situations? If yes, then "Ruling the Resus Room" is the course for you!
This course is designed for interprofessional teams working in critical care settings such as emergency resuscitation rooms, intensive care units, and trauma centres. It aims to equip healthcare professionals with the necessary skills and knowledge to work together efficiently in high-stress situations, ultimately leading to better patient outcomes.
The course consists hybrid style of learning – pre-course reading, small group discussions and four 'simulation' stations, each focused on a different critical care scenario and requirement for high performing team.
Human Factors Coaching & Simulation | Interprofessional Education | Teamworking  & Task Allocation | Wellbeing & Civility
Each station will have a team of five members comprising healthcare professionals from various disciplines. These teams will rotate through the four stations, allowing each member to gain exposure to each scenario and learn how to work together to make critical decisions.
To join the course, interested individuals should submit an expression of interest. The selection committee will select five members from each group to participate in the course. This ensures that each team is composed of members from different professional backgrounds, promoting interprofessional collaboration and learning.
"Ruling the Resus Room" is a unique opportunity for healthcare professionals to learn how to work together effectively in high-pressure situations, and ultimately improve patient outcomes. Don't miss out on this chance to enhance your skills and take your career to the next level! Find out more and book your place here.