This is a one day bespoke course for the the East Midlands Ambulance Service (EMAS), which teaches suturing skills to specialist practitioners, enabling them to provide wound closure in the patient's own home, promoting hospital avoidance and patient focused care.
The workshop is a combination of theory and practical learning, which covers:
Basic anatomy and physiology,
Wound assessment
Stages of wound healing
Types of analgesia
Documentation & consent
Suture material & techniques
Participants will then be given time to practice suture techniques under the guidance of the DREEAM facilitator.
To enable EMAS staff to perform advanced wound care independently, they will be required to follow the pathway as shown, gaining experience and presenting clinical cases back to the course facilitator to ensure standards of practice.  This course is fully accredited and can be used for continuous personal development CPD hours.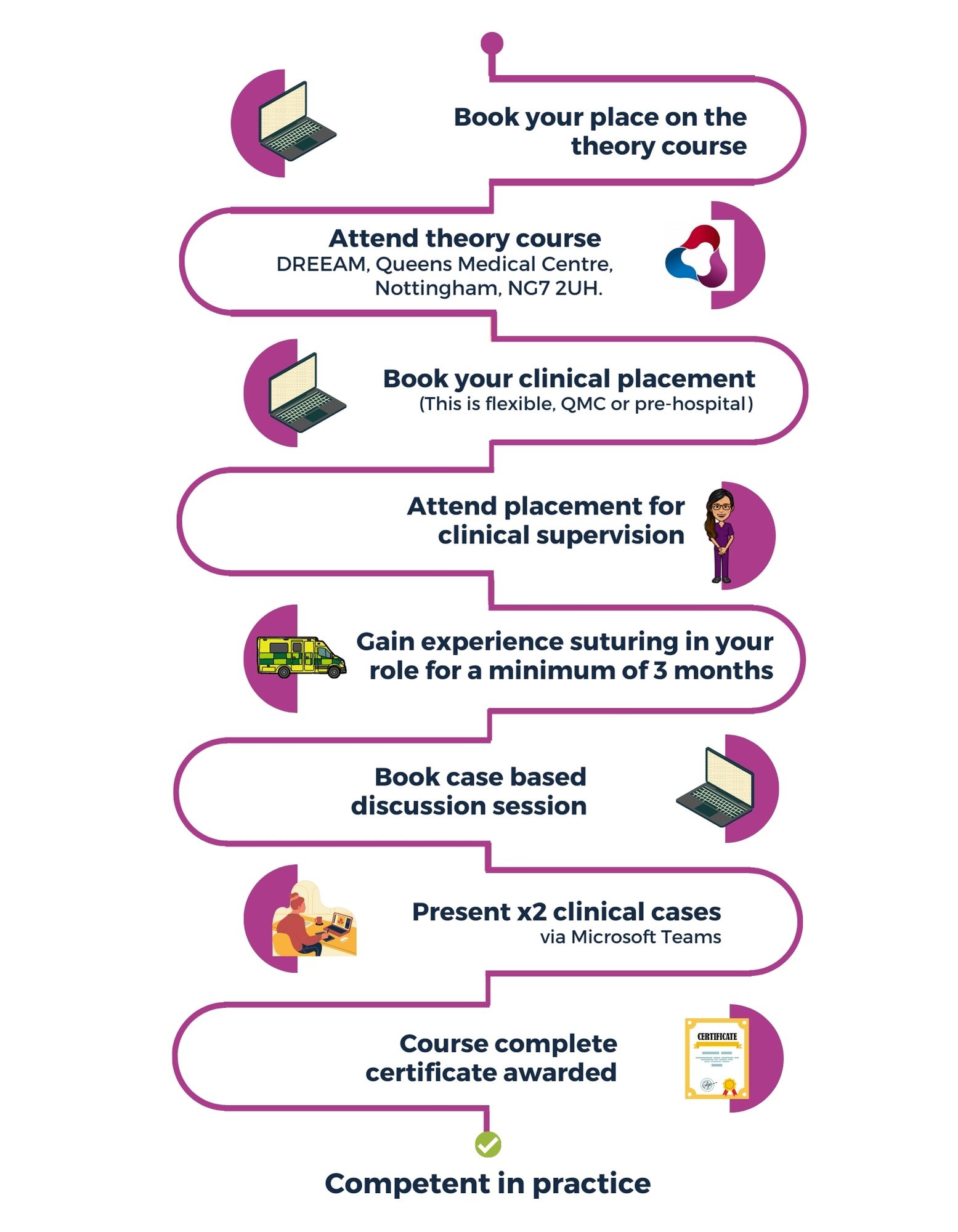 Step 1 – Book theory course.
Step 2 – Attend theory course.
Step 3 –  Book your clinical placement.
Step 4 – Attend your clinical placement where you will gain clinical sign offs. Please note we can be flexible; this can take place at QMC, or our assessor will come out on the road with you. (An additional placement day may be required for patient exposure, depending on your confidence and competence).
Step 5 – Gain experience suturing patients pre-hospital within your role for a minimum of 3 months, following your organisation's governance structure.
Step 6 – Book a case based discussion session.
Step 7 – Present your x2 clinical cases via a 1-hour Microsoft Teams session where you will have the opportunity to present your pre-hospital patient cases on a standard template provided. You must submit and present x2 cases via a link to our Moodle platform which we will send to you.
Step 8 – These cases will then be graded pass/fail. Once completed, you will receive an email containing feedback and an electronic course completion certificate.